Special flights from Australia to the Philippines may only carry Filipino nationals/Philippine passport holders and their foreign spouse and children (in line with Philippine entry restrictions).
Find out about the upcoming flights that have been arranged by Philippine Airlines:
Special flight for Filipinos in Victoria
A Philippine Airlines special flight is confirmed for Wednesday 12 August:
PR210 Melbourne to Manila
Departure: 1030H.
The total price for the ticket is $1196.20 and includes 7kg hand carry, and 25kg check in baggage.
The Philippine Consulate in Melbourne in recent weeks has organised an expression of interest for Filipinos stranded in Victoria who would like to fly back to the Philippines. Passengers were required to complete an ATN form for the opportunity to receive a subsidised ticket.
Acting Consul General Mandap has provided the following updated advice as at 2pm, 10 August:
For the passengers with ATN forms, please wait for an email from PAL-Manila. Please refrain from calling the PAL-Sydney hotline to avoid duplication of bookings.
For the passengers with cancelled PAL tickets, please wait for your email from PAL-Sydney. Again, no need to call them unless instructed.
For those not on either list but would like to buy a seat, get in touch with the PAL-Sydney reservations team ASAP for booking and ticketing. You can also call them at 02 9249 9900.


Note: bookings close at 12 noon, 11 August.
Please also note that face shields are required per Philippine Airlines advisory: https://www.facebook.com/notes/philippine-airlines/all-passengers-must-wear-face-shields-and-face-masks/10157889316094690/
Special flight for Filipinos in NSW
Philippine Airlines has updated their August schedule which does not include flights to and from Sydney. Philippine Airlines has informed The Philippine Times:
Plans for Sydney are still being finalised due to restrictions imposed by the Australian government. PAL are still going through both Australian and Philippine government approvals.
Future direct flights between Australia and the Philippines
Philippine Airlines has made scheduled flights available for booking from late October via their website. The airline is accepting bookings from Manila to Sydney on October 27.
The next scheduled bookable flight from Manila to Melbourne, as well as Manila to Brisbane are both on October 30.
Swab testing on arrival in Manila
Passengers will be required to follow the following procedure for COVID-19 swab testing on arrival in Manila.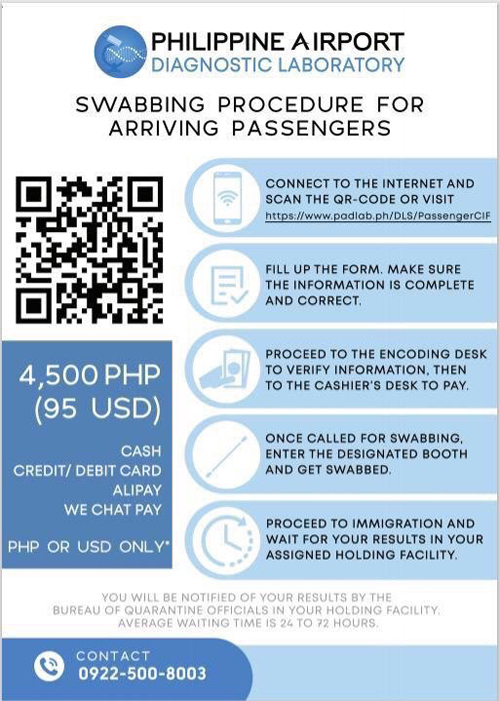 Hotel quarantine
Passengers on arrival in Manila will be required to stay at a government approved hotel to undertake their hotel quarantine. Passengers will have the opportunity to select their hotel of choice, based on an availability list.
Passengers must self-isolate at the hotel while while waiting for their COVID-19 test result. The number of days one must stay in a hotel is dependant on the testing rates in Manila and is usually around 5 days. Payment is required upon hotel check in.
Get more stories like this in your inbox!
Sign up for our newsletter and receive regular updates.