Around 379 Filipino crew members of the cruise ship, Ruby Princess on 25 April arrived in the Philippines via a special chartered Cebu Pacific flight from Sydney
The crew is now on a mandatory 14-day quarantine in the Philippines. The Philippine Department of Health (DOH) said all Filipino crew members are so far virus-free.
DOH Spokesperson Maria Rosario Vergeire said the same strict measures will be implemented as 100 more Filipino crew members of the Ruby Princess are set to arrive in the country. They remained on board to operate the ship.
Some parts of Luzon including Metro Manila is still under enhanced community quarantine until May 15. However, overseas Filipino workers are allowed to return as long as they complete a 14-day quarantine before going back to their homes.
Departure from Australia
Philippine Consul General in Sydney Ezzedin Tago and Labor Attaché Cynthia Lamban were on hand to see the Filipinos off from Sydney International Airport.
They reported that the departing kababayans appeared to be in good spirits and eager to get home.
"We are happy at today's result as it provides a measure of certainty as to the future and welfare of our Filipino nationals," Consul General Tago said.
"We are thankful to all the Philippine and Australian offices involved for working out an outcome that will bring Filipinos back to their homes and families," he added.
The Philippine Consulate General in Sydney, along with the Philippine Embassy in Canberra and the Philippine Overseas Labor Office in Australia, said that the Australian and New South Wales police and health authorities, the cruise line operator Carnival Australia and the ship's local manning agency, worked together towards the continuing care and subsequent safe repatriation of the Filipinos.
All those who boarded the chartered flight had been cleared to travel back to the Philippines by the Australian offices.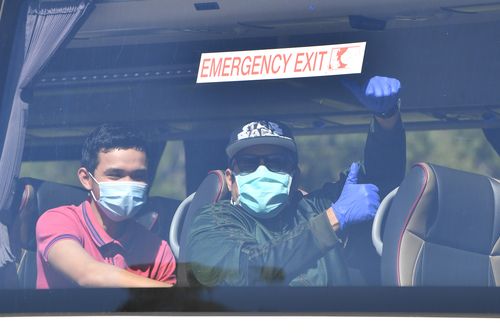 Farewell, Ruby Princess
Meanwhile, the Ruby Princess that departed Australia is now on its way to the Philippines carrying 100 other Filipino crew who were not part of the chartered flight. The ship is expected to reach Manila on May 9.
Prior to its departure, the cruise ship had been docked in Port Kembla, Wollongong, NSW with its crew including over 500 Filipino nationals, onboard under quarantine since April 6.
Of the 115 that disembarked on April 22 (Wednesday), 21 crew members tested positive of coronavirus and have been taken to hotels in Sydney for a 14-day quarantine period.
A total of 550 crew members have been taken off the ship in batches since Tuesday and flown to their countries of origin.
Casualties
On March 19, the ill-fated luxury liner docked in Sydney Harbour and let 2,700 passengers off to fly home to locations across Australia and overseas.
The vessel has since been linked to nearly 700 COVID-19 cases in Australia which account for over 10 per cent of all cases including 21 deaths.
A dozen crew members infected with COVID-19 were disembarked during that period to receive special medical attention, while the rest remained on the ship as they underwent necessary health monitoring and examinations.
In a radio interview with Sarah Hallon over ABC NewsRadio, Dean Summers of International Transport Workers Federation said he was satisfied with the outcome.
"We were disappointed this has taken so long to get those things that we said were critical to the health of those workers onboard," Summers said.
"Finally we're satisfied that things have happened and people have been isolated, repatriated and everyone has been tested," Summers added.
Feature image credit: Philippine Consulate General Sydney