Philippine Airlines has announced a limited schedule of flights in October between Australia and the Philippines.
Flight schedules:
PR 211 Manila to Sydney October 17
PR 212 Sydney to Manila October 18
Passenger numbers are expected to be very low, due to quarantine limits in both Sydney and Manila. 
Details for passengers flying from Sydney & Melbourne to Manila:
These user-pays repatriation flights will be made available for booking via a registration form https://tinyurl.com/MNLSpecialFlight .
Deadline of registration: October 15, 12:00PM
Special flights from Australia to the Philippines may only carry Filipino nationals/Philippine passport holders and their foreign spouse and children (in line with Philippine entry restrictions).
Those in other cities can make arrangements to fly to Sydney via domestic flights. Note: Victorians will need to apply for a Entry Permit.
Passenger numbers are expected to be very low, due to quarantine limits in Sydney and Manila. 
Details for passengers flying from Manila to Sydney:
The Australian Embassy has previously provided the following advice for returning Australians and Filipinos flying to Australia: 
Please contact PAL directly for flight bookings at any PAL ticket office or by phone on +63 2 8855 8888. PAL is not taking online bookings for these flights. Please also contact PAL or other airlines for advice on availability of domestic flights to connect to Manila. Australian Permanent Residents, New Zealand citizens (who are usually residents of Australia), and immediate family members must meet all Australian entry requirements. Please be aware that you will not be able to board flights if you are not cleared to travel to Australia. For information on Australia's travel restrictions please visit https://covid19.homeaffairs.gov.au/coming-australia
Australian Permanent Residents must have a valid travel facility. You can check this by using the Visa Entitlement Verification Online (VEVO) tool: https://bit.ly/2ZsNNZs
Immediate family members must obtain an exemption to Australia's inbound travel restrictions if required.
For temporary visa holders (except for Partner and Child visa holders), please use the following enquiry form https://bit.ly/2ZuB7kM to provide further information to the Australian Department of Home Affairs. You should attach proof (such as your marriage certificate, evidence of your de-facto relationship such as shared finances or property, your birth certificate or birth certificate for your children). Please do not book your travel until you have the necessary exemption. 
Please note that Partner (subclasses 100, 309, 801, 820) and Child (subclasses 101, 102, 445) visa holders can travel to Australia and do not need to request an exemption.
Face shields
Face shields are required per Philippine Airlines advisory: https://www.facebook.com/notes/philippine-airlines/all-passengers-must-wear-face-shields-and-face-masks/10157889316094690/
Swab testing on arrival in Manila
Passengers will be required to follow the following procedure for COVID-19 swab testing on arrival in Manila.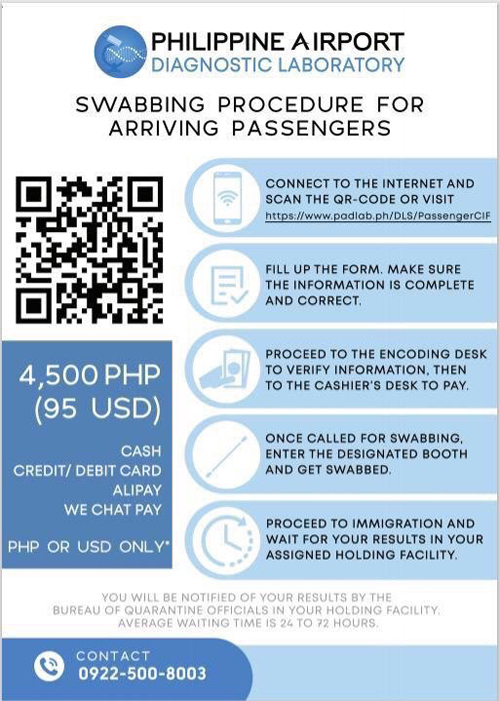 Hotel quarantine
In Manila
Passengers on arrival in Manila will be required to stay at a government approved hotel to undertake their hotel quarantine. Passengers will have the opportunity to select their hotel of choice, based on an availability list.
Passengers must self-isolate at the hotel while while waiting for their COVID-19 test result. The number of days one must stay in a hotel is dependant on the testing rates in Manila and is usually around 5 days. Payment is required upon hotel check in.
In Sydney
Travellers will be required to pay for their mandatory hotel quarantine at a cost of $3000 per adult, and $1000 per child. This cost will cover the food and accommodation for the 14-day hotel stay.
Special requirements for travellers from Victoria
Border restrictions are in place for travellers from Victoria. An Entry Permit will be required and can be applied for online. It is recommended to avoid overnight stays in Sydney due to Public Health (COVID-19 Border Control) Amendment Order 2020. 
DFAT New South Wales has provided information for Victorian travellers:
The traveller must transit through and leave NSW by the most practicable direct route. The traveller must self-isolate if an overnight stay in NSW is required. The traveller must keep their permit with them at all times, along with any supporting evidence associated with their travel (such as their plane ticket). Failure to comply with these conditions may involve the cancellation of a permit and/or penalties under NSW law. 
A permit will not be issued if, in the previous 14 days, the traveller has:
been overseas
been in contact with a person with a confirmed case of COVID-19 and asked to isolate
had symptoms consistent with COVID-19, or been diagnosed with COVID-19
See Service NSW about how to apply for an Entry Permit: https://www.service.nsw.gov.au/transaction/apply-covid-19-nsw-border-entry-permit